VLEs having UID authentication devices can issue Jeevan Pramaan Certificate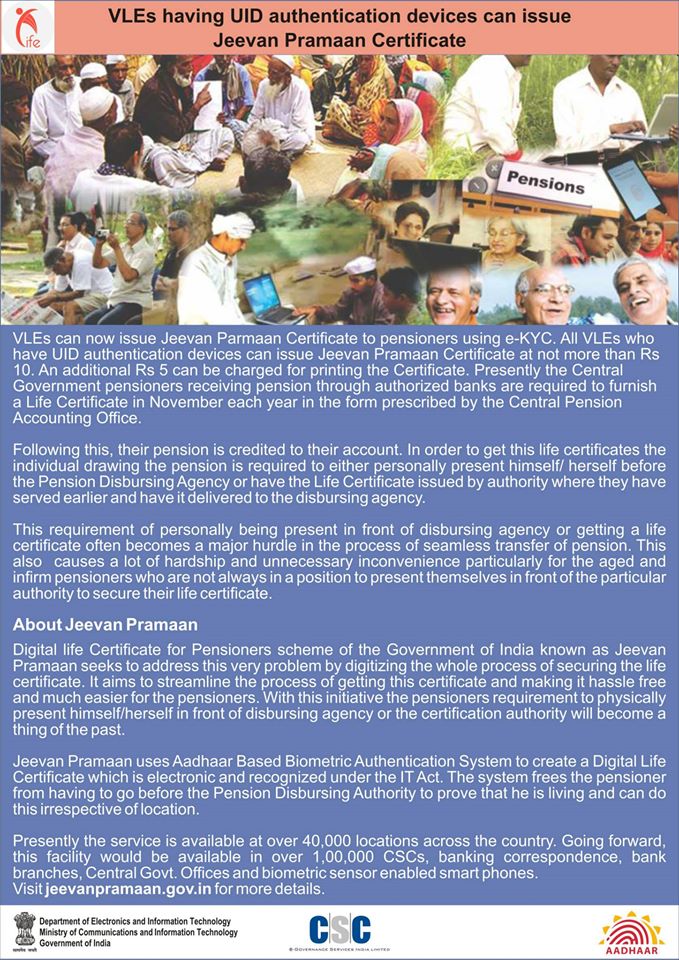 Jeevan Pramaan Certificate
As you all are aware PM Sh. Narendra Modi today launched Jeevan Pramaan – Digital Life Certificate for Pensioners that would benefit all the pensioners.  VLEs (Village level Entrepreneur's) can also contribute to the scheme, as VLEs having UID authentication devices can issue Jeevan Pramaan Certificate
Permanent Enrolment Center for Aadhaar Card
http://vidarbhalive.com/vles-uid-authentication-devices-can-issue-jeevan-pramaan-certificate/
http://vidarbhalive.com/wp-content/uploads/2014/11/10479891_756214737765843_1969632168373198396_o.jpg
http://vidarbhalive.com/wp-content/uploads/2014/11/10479891_756214737765843_1969632168373198396_o-150x150.jpg
Aadhaar
e Seva Kendra
Jeevan Pramaan
Jeevan Pramaan Certificate As you all are aware PM Sh. Narendra Modi today launched Jeevan Pramaan – Digital Life Certificate for Pensioners that would benefit all the pensioners.  VLEs (Village level Entrepreneur's) can also contribute to the scheme, as VLEs having UID authentication devices can issue Jeevan Pramaan Certificate Permanent Enrolment...
vidarbha
info@vidarbhalive.com
Administrator
Vidarbha Live
The following two tabs change content below.
Latest posts by vidarbhalive (see all)